3- Decoders USB :
Their means of communication with the transponders is based on RF signals.
2 versions are available : the decoder 'RC1 USB' (older), and the decoder 'RC2 USB' more accurate and powerful.

The decoders 'RC1/RC2 USB' work simply connected to a PC by the means of a USB cable.

Light and small sized, they can be easily handled or carried.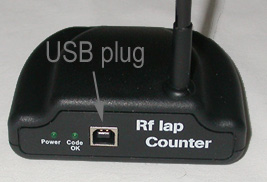 Decoder 'USB'

Specifications :

Specifications

Decoder RC1 USB

Decoder RC2 USB

Number of codes available

65000
65000

Acquisition time

< 3ms
< 3ms


Accuracy on the laptime

s

+/- 0.01s

+ / - 0.002s


Clock stability



/

+/- 10ppm


Clock accuracy



/

+/- 10ppm


Work connected to . . .



PC

PC


Mode of communication

USB port
USB port

Power supply

by computer USB Port
by computer USB Port

Max. current consumption

25mA ( 0.15W )
25mA ( 0.15W )

Autonomy



/

/


Specific features

No
Automatic recovery on USB failure

Temperature range

-10°C / + 55°C
-10°C / + 55°C

Dimensions ( L x W x H )

100 x 75 x 40 mm

100 x 75 x 40 mm


Weight in g

100g

100g